Musculoskeletal Ultrasound - Fort Lauderdale, FL
Extreme Precision
For Immediate Relief
Many musculoskeletal problems are difficult to diagnose because they are only apparent when the body is in motion. You can't take an X-ray while someone is moving! But with diagnostic musculoskeletal ultrasound from our Fort Lauderdale, FL team, we can look at real-time images of what is going on inside a joint as a patient is using it. This allows us to determine whether the injury stems from a muscle, ligament, or tendon, meaning we can focus our treatment right where it is needed.
Why Choose the Institute for Non-Surgical Orthopedics
for Musculoskeletal Ultrasound?
World-Class Diagnostic Ultrasound
Surgery-Free, Medication-Free Pain Management
Able to Help Across All Areas of the Body
Diagnostics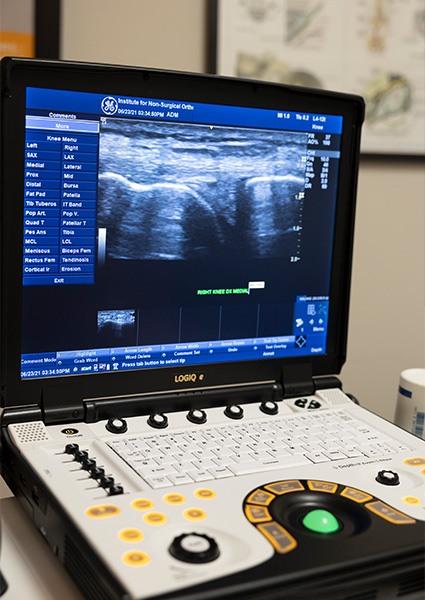 You've most likely heard of ultrasound in reference to being able to see a baby in the womb before it is born, but this technique actually offers a wide range of benefits for patients dealing with many musculoskeletal problems. With ultrasound, we can identify exactly what is causing a patient's issue. We have used ultrasound to help countless patients here at the Institute for Non-Surgical Orthopedics, to find out what their problem's pain generator was. We can do this for you as well, contact us today.
Ultrasound-Guided Joint and Nerve Blocks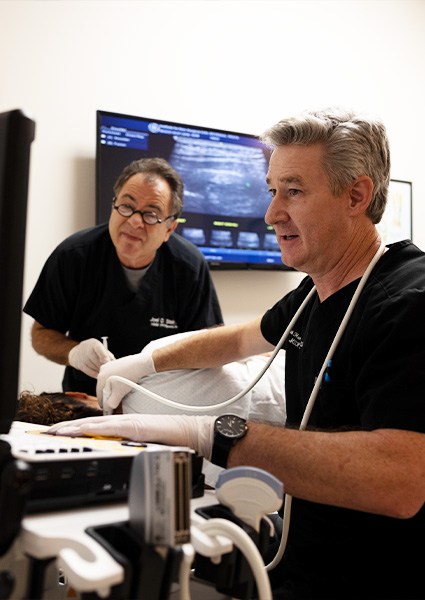 Interventional injections have been used for years to help patients dealing with a wide variety of pain and injuries, but did you know that most doctors administer those injections without any type of guidance? This essentially means that they are doing them blind, making it very likely that the medicinal substance is not going where it is needed. The risk for infiltration of nerves and blood vessels is also high.
That's why we use ultrasound-guided injections here at the Institute for Non-Surgical Orthopedics. We're able to be extremely precise with our injections to ensure they are delivered exactly where they will be most effective, avoiding vascular and neural entities, which can lead to a better, safer, less painful outcome and faster recovery.
We use ultrasound guidance to help patients experiencing problems with their:
Shoulder

Adhesive Capsulitis
Dorsal Scapular Nerve Entrapment
AC Joint problems
Rotator Cuff Problems
Biceps and Triceps issues
Subacromial Bursitis
Suprascapular Nerve Pain

Elbow

Joint Arthritis
Ulnar Nerve Entrapment, Neuropathy and Palsy
Tennis and Golfer's elbow
Olecranon Bursitis

Wrist/Hand

Periarthritis
Osteoarthritis
Triangular Fibrocartilage Complex tears
Carpal Tunnel Syndrome
DeQuervain's Stenosing Tenosynovitis

Finger

Osteoarthritis of small joints
Carpometacarpal joint
Trigger Finger/Thumb

Hip

Osteoarthritis
Trochanteric Bursitis
Sciatic Nerve Hydrodisection
Hamstring tears/rupture
Quadriceps muscle tears

Knee

Osteoarthritis
Bursitis
Baker Cyst
Meniscus Tear
Medial or Lateral Collateral Ligament Sprains/Tears
Patellofemoral Syndrome / Chondromalacia Patella
Gastrocs Tears

Ankle/Foot

Sprains
Achilles partial tears
Tarsal Tunnel Syndrome

Toe

Neuromas
Turf Toe
Osteoarthritis
Peripheral Nerve Hydrodisection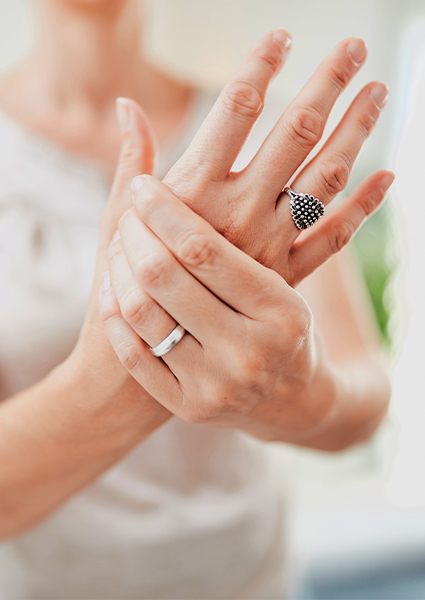 A pinched or compressed nerve is the underlying source of a lot of musculoskeletal pain. This usually occurs in areas of the body where a nerve has to travel through a small space in the muscles. When these muscles become inflamed or injured, they can place pressure on the nerve, leading to stinging pain and/or numbness. Examples of this include common conditions like Carpal Tunnel Syndrome and sciatica. With peripheral nerve hydrodissection, a liquid solution is injected around the distressed nerve, and it provides a cushion between it and the surrounding tissues, relieving the pressure to stop the cause of pain.